Visy Rail OCR Portal automatically images train traffic and extracts data from wagons and containers that are visiting the terminal. The imaging environment automates the whole management procedure by providing information and images of each wagon and cargo to the operating system in real time.

With Visy Rail OCR system, you can move manual work from rail tracks to the office. For instance, checking mechanical parts like brakes or chemical tanks' covers can be automatically done by Visy OCR software. Each Visy Rail OCR system is customized with OCR features to support customer's unique operations, including features such as wagon ID, wagon length, container ID, container length (20ft/40ft), cargo type, dangerous goods labels, and brake position.
High recognition rates and image capturing in any environmental condition
Visy Rail OCR Portal utilizes Visy's AI-powered container OCR software with line scan cameras, laser scanners, and efficient illuminators to capture high-quality images of all train sides in any environmental condition, regardless of possible dirt or damage, and even with speeds of up to 70 km/h. The system validates the captured data to hit high recognition rates of 97-99.5% and the high-quality images keep a record of container conditions, therefore helping rail terminal operators shed liabilities for containers that arrive damaged.
Complementing terminals' existing system network
Visy Rail OCR Portal environment complements and supports terminals' existing information and system network through system integrations. The captured information and images are available in Visy Train Gate application and exchanged with the local operating system. If the systems notice differences in information between the pre-announced details and the data gathered on the premises, you can retrospectively access images and captured data to verify whether an exception handling is required.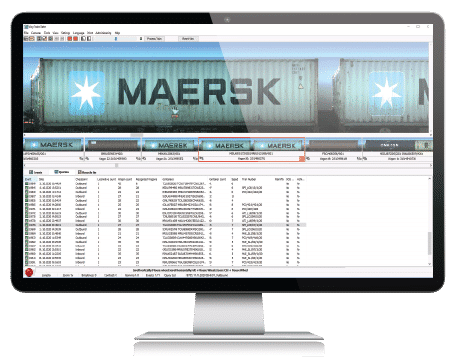 Visy Train Gate for managing the train traffic
Visy Train Gate is the user application to manage the captured train traffic data. With the user interface you can easily review information of each train, wagon, and container, get information of train length, do exception handling, check images, and export reports.
Contact Visy Sales to learn more