The Visy team has grown with the addition of sales professional Daniel Sternsén, who started in January 2023 in the position of Country Manager (Sweden). Daniel has over 15 years' experience of working in sales and the logistics sector, and we are extremely excited to welcome him to our team. Daniel is in charge of sales of Visy Access Gate systems for industrial sites and logistics centers in the Swedish and Norwegian markets. Here's a short interview with Daniel.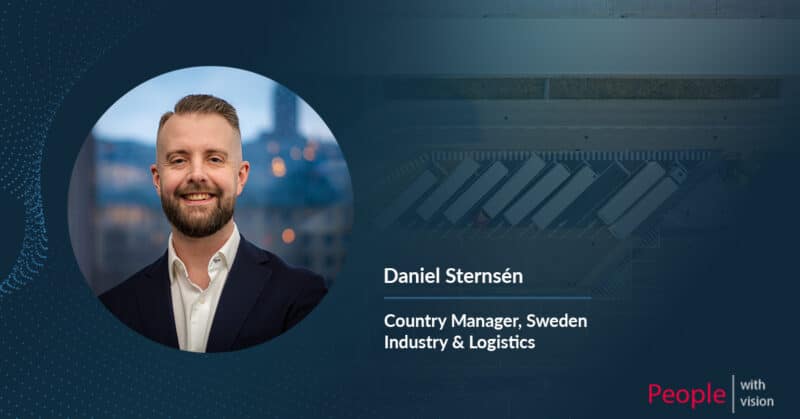 Who are you?
A person born in the 80s who grew up witnessing an amazing development in technology which created a genuine interest for cutting edge products and solutions. I'm a globetrotter with a passion for other countries and cultures – close or far away. I'm also a football fan closely following the English Premier League and Allsvenskan.
What is your background?
I did my studies within civics and focused on Business Management/Finances/Administration. After graduation I went into sales & marketing and held numerous positions within the commercial side of a business, such as Marketing Consultant, Sales Executive roles, and most recently a Sales Manager position.
What kind of expectations do you have for working at Visy?
With 15 years' experience in logistics and selling to various industries I'm very eager to apply what I've learned in a new fast-developing IT company. After meeting with our Sales Director John Lund and CTO Heikki Huttunen I was filled with energy and enthusiasm over the opportunity to take part in the Visy development abroad. The Visy brand is known in the Swedish market as we already have a wide range of customers, but having a local touch point and knowledge is the key to continuing on the successful path, as well as growing within the Industry & Logistics sector in the same way as we've done in Finland. To be assigned with this responsibility is a true honor and I can't wait to start this journey together with my new colleagues, improving the facilities of Visy customers for a safer, more effective, and climate friendly environment.
What do you like to do in your free time?
My free time is typically spent with family and friends. We recently had a son, so not surprisingly a lot of time goes to him. As we do our best to be active parents, we enjoy travelling and outdoor exploring. It could be visiting the forest, having a 10 km walk with our dog, or doing some kind of sport. With friends I'm a frequent restaurant and café visitor and like to play padel tennis and golf.
Thanks for the interview and good luck! We at Visy are glad to have you onboard the team.