Visy Crane OCR automatically detects, images, and recognizes container IDs, IMO and ADR labels, door direction, seal presence, and other properties while containers are being lifted by cranes. Visy Crane OCR contains multiple options for automating container recognition processes, inluding SideView, TopView, LaneView, and TTView solutions. Together with Visy IRIS OCR and AI recognition software, the solutions feed container identification data to terminal operating systems (TOS).
Crane operations are a vital part of container terminal functions, therefore transforming cranes and other container handling equipment (CHE) into an intelligent ecosystem instantly increases a terminal's handling volume while also allowing safer operations.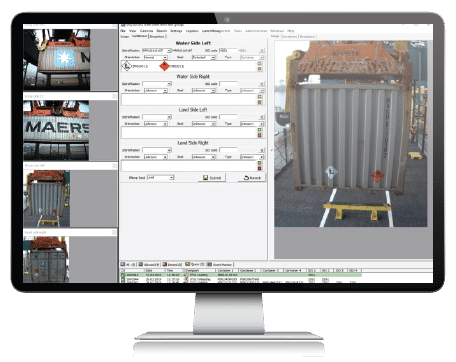 Visy SideView recognizes container markings and seal presence, and images all sides for damage inspection purposes while containers are lifted by STS cranes. Two HD-resolution OCR camera lifts with efficient illuminators are mounted on sea-side crane legs to capture every container regardless of flying path or lifting location. The solution is integrated with PLC to trigger the recognition process precisely when the lifting occurs.
Visy LaneView images containers on lanes or platforms under STS cranes with high-resolution PTZ (pan-tilt-zoom) and fixed OCR cameras installed on the crane frame. The solution recognizes container markings and seal presence, and captures images for damage inspection purposes. The PTZ cameras are easily controlled to provide the best view for all lift cases, and Visy automation applications accurately calculate the container flight path to optimize the imaging moment.
Visy TopView identifies container IDs from the roofs of containers. The solution consists of robust cameras installed in the middle and both ends of spreaders with efficient illuminators to capture high-quality images regardless of the time of day or environmental condition. Visy TopView prevents time-consuming false moves and incorrect stacking locations by recognizing every container and verifying that loading and unloading processes proceed exactly as planned.
Visy TTView recognizes ID numbers and other roof markings of terminal tractors to automatically link the container handling equipment to the lifting tasks. High-resolution cameras with strong infrared pulse are installed on the crane trolleys to capture images of the CHE roofs. Matching the terminal tractors instantly with the on-going lifting tasks enables effortless tracking of cargo. In addition to OCR cameras, RFID (radio-frequency identification) devices can be combined to the TTView solution.