Gate Operating System (GOS) – Visy Access Gate is designed to streamline and automate terminals' gate processes. The flexible gate operating system and access control ecosystem manages all vehicle and cargo traffic with intelligent system features that optimize operations and allow you to effectively handle vast volumes of gate transactions.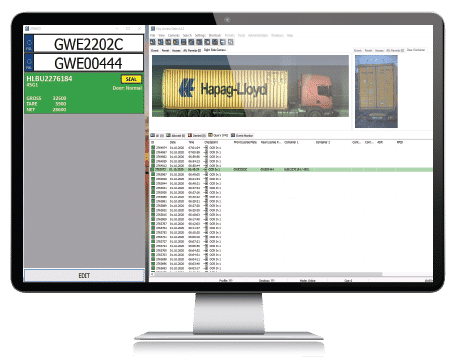 Flexible Gate Operating System
Visy Access Gate GOS covers all access and area control needs with a wide selection of recognition technologies and management tools. The important part of the advanced gate operating system is Visy OCR Portal's AI and OCR software with line scan and area scan cameras to capture high-quality images and to recognize container, trailer and vehicle identifiers in any environmental condition.
In the gate area, the needs of both security and logistics are supported with access control features and traffic guidance equipment such as OCR & ANPR cameras, self-service kiosks with several RFID options, intercom devices, barriers, and info displays. Visy Access Gate GOS and Visy's access control environment is an adjustable system entity which can be easily expanded and scaled alongside changes within operations.
Practical tools for managing traffic events
Visy Access Gate GOS complements terminals' existing intelligent networks with unbeatable integration possibilities. The solution's desktop and web-based user applications enable efficient management of access permits, traffic and cargo while reporting functionalities support planning and identifying operational bottlenecks.

As a complete management solution, integration to third-party systems (TOS, POS) or additional recognition devices is smooth. Visy Access Gate GOS delivers the benefits of a flexible and modular access and area control ecosystem.