Visy TopView automatically identifies container IDs from the tops of containers, transforming spreaders into smart devices with OCR technology. The robust solution recognizes container IDs while crane operations are on-going, providing efficiency and accuracy in container handling. Visy TopView increases handling volumes by preventing time-consuming false lifts, regardless of whether the operation commences over vessel, truck, train, or yard.
Smart implementation
Visy TopView is a compact system in which all equipment, including robust cameras, efficient illuminators, and the recognition PC, are installed directly on the spreaders. The intelligent OCR software validates the best results to achieve recognition rates of up to 99.5% and thus verifies that each movement of cargo goes as planned. The system is a reliable partner for terminal operators in container handling processes, as it gathers applicable recognition data while cranes are in action, regardless of the time of day or environmental condition.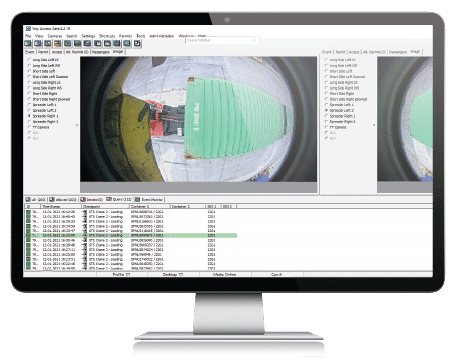 Multifaceted benefits
Visy TopView's advantage is its agile and innovative functionality which accelerates container handling processes, instantly increasing a terminal's operating capacity and stack accuracy. With Visy TopView, no container is being shipped or stacked to a wrong location and the acceleration in (un)loading processes is remarkable. The system also enhances safety and security: the need for manual work in yard operations is reduced as fewer people are required to operate in the immediate vicinity of the cranes.